The cool thing about crochet is the art of creativity, done in several different methods, today we brought a napkin in crochet all colorful, very simple and authentic, will look beautiful decorating any dining table. Also, this same method can be perfected for several pieces, in case you want to make a huge flower in crochet type rug just use a thicker line and keep growing the stitches.
If you want a more delicate piece, just use lines in the delicate pattern of child and so on, this piece provides you with a wide variety, the cool thing is to play with dot is to build what you want. In this piece I had no difficulty at all, I found everything very simple to do and versatile, just have to pay attention even in the step by step and in the color exchange, it is so follow.
It really looks amazing, I loved it and I've already received orders to make other flowers alike, I'm doing at the same point a rug what I changed was the line is getting amazing. The cool thing about crochet is that the versatility of the stitches, I start building one piece is already going to another, simply loved the ease that a stitch provides me.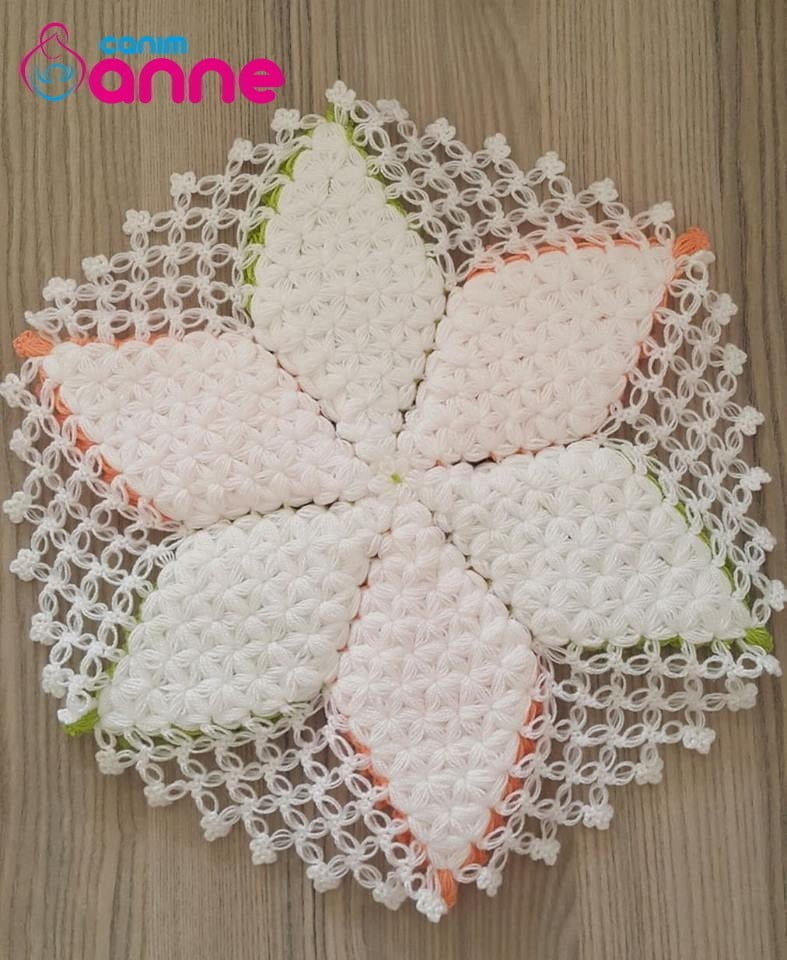 I really like the tutorials because in fact teach the closed points know, I do not just take the thread and needle and i keep trying to create from my head, I follow what is written there and it makes it much easier for me.
Also because there are days that we are in fact without creativity.
Folks like me always say crochet changed my life, I started out in crochet as a great hobby, unemployed some time after I saw it was opportunity, decided to take the time I would get unemployment insurance and my willpower and learn.
It wasn't easy, with a child to raise having to reconcile with my freelance work, I did crochet many times at dawn and it's not that I get it.
Today I live from crochet is I feel very proud, because I won, did not let the difficulty win me and I am here every day learning more and sharing everything I know with you.
The tutorials That I bring are not mine, are experts in the branch that I follow and love their work, I always share with you, because in fact I am passionate about the art of crocheting.
All the pieces I also do, some easier, others more difficult, I also put the manpower in the work and do each tutorial together, it is really amazing the richness of details of each model.
Today I brought this napkin, super different that will give a personality on your table, the richness of colors will provide you joy and after that ready, it will certainly be passion at  first sight.
Follow us with another amazing tutorial below:
As I always say, if I fall in love with the pieces, why not fall in love with people, it was exactly this thought that made me see crochet as an opportunity.
Today I market everything I do, of course I have a piece of each tutorial for my person, because I'm like that! But  I live on it, I live from what I consumption, meaning being is good for me is good for people.
This is also valid for my quality control, example: if I follow a tutorial that in the end did not work, I do not disclose the piece, that is, my empathy knows, with my consumer, then today I have crochet inserted in my life, as a passion that I do not give up.
So on-call crocheters let's learn this amazing tutorial of this colorful napkin on the official website .
Access the pattern : Crochet Flower Doily