Hello my dear readers, how are your works? As this pandemic is being, thank God here everything is fine and soon everyone will be vaccinated. This phase will end and things will return to normal. Let's take care of ourselves, take care of our health and who we love. Here we are taking the opportunity to pack things from the house and the garden, we organize wardrobes, we change furniture, we buy a TV and other things we needed to fix.
In addition it was also good to practice and make different patterns and challenge me with more difficult patterns and learn more each day. Today I brought a very cool and very useful project for children and I hope they like it as much as I loved it and I will do it in 3 colors for my niece. It is always good to have jackets, gloves and socks left over for the winter as it is very cold all day. And nothing better and more satisfying than being able to make your clothes with your own hands. 
Crochet Pattern High Neck Co

at for Girls
I am always thrilled when I make a pattern of clothes for myself or for a relative or friend, as it is very special. Today's pattern, for example, is a very beautiful pattern and is a great option to give as a gift to someone. It's about a beautiful coat with a high collar for children, I'm sure she'll love it and you too, it looks beautiful, comfortable and elegant, in addition to warming up from the cold.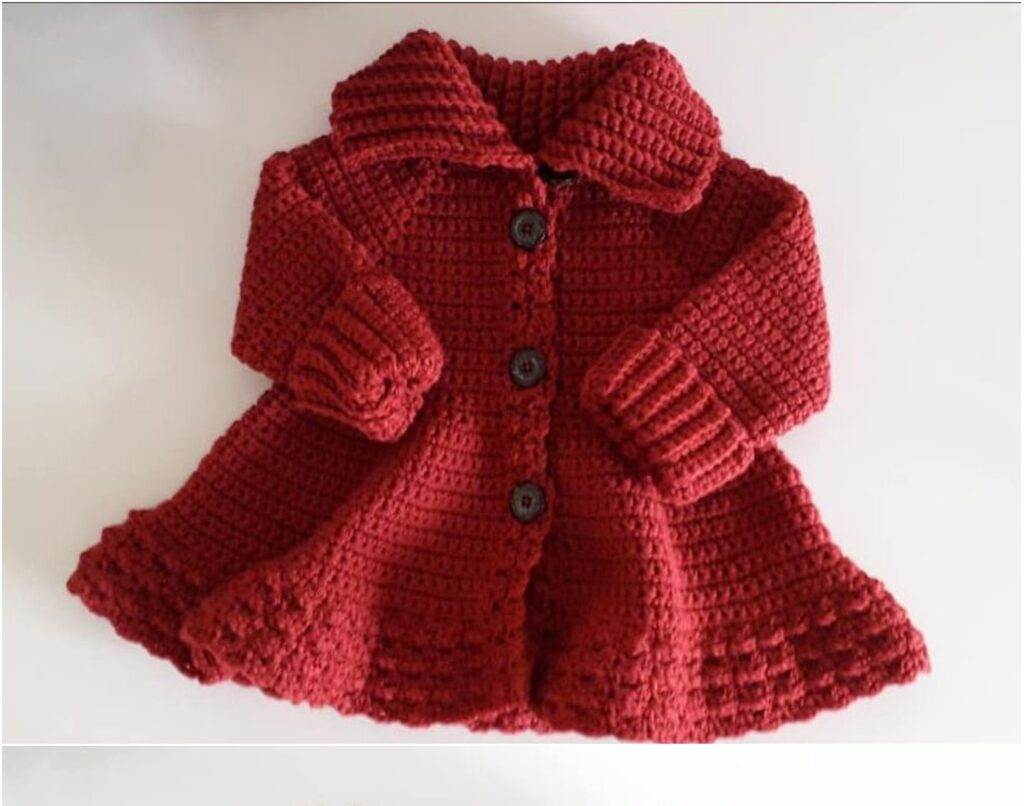 As you can see in the photo I left above, this is what the pattern looks like when it's over, it's really charming. It is a warm turtleneck coat or if the child is younger, it is in the style of an overcoat, it is very beautiful and elegant. They will feel great and a princess. Take the opportunity to gift someone who is special in addition to making it for their daughter, as a niece or goddaughter, the girls love this look.
Before eating your work, keep in mind to whom you are going to give this gift, so as to define the color to make the piece the person's favorite color or also a neutral color as in the photo, red or black. If you want to mix colors, it's your preference, I'm sure everything will be beautiful and elegant. For those who sell their work, it is important to have classic winter colors, such as black, red and brown, these are the colors that are most in demand. Always make strategic colors to sell, thus being more sure of selling and increasing your income.
Video tutorial
Below are the videos I found of this wonderful and cozy pattern, there are two videos that show the complete step by step of the crochet coat pattern with high collar. Do it together, pausing the video so it is easier to play and not get lost, whenever you have doubts, return the video. The videos are in great quality of image and audio, enjoy a lot to learn a lot and how to execute the points and details.
I hope you like it as I was enchanted when I saw the photo, make beautiful works. Save our website in your favorites bar because we always have news here, every day we have different patterns to make and innovate. Leave in the comments what you thought of this patten and how it was done, if you had difficulty with these things. Until the next incredible work that I am already separating for everyone here.