Hello my dear, today the day started hectic with many commitments but I am stopping here to write to you and share something very cool. As I said yesterday I was researching many different things that are going on the internet to learn more and practice. And I brought a pattern that I couldn't find anywhere like that. I received many requests and little by little I am looking for and bringing them here on our website.
It is very satisfying to do something different, a different pattern that in the end seeing your complete creation gives you joy, pride and a sense of accomplishment. Finishing the pieces we are happy and we want to do more, it is always like that with me. I have a very good and pleasant feeling when I have just done something with my hands, feeling useful, be it a small piece or something to decorate the house or even a bedspread after months.
Learn new things and improve your skills, when I saw this pattern I immediately fell in love. I spent almost 2 hours researching and dedicating myself to it for you so I hope you like it and make many pieces. So enough talking and let's go to today's pattern.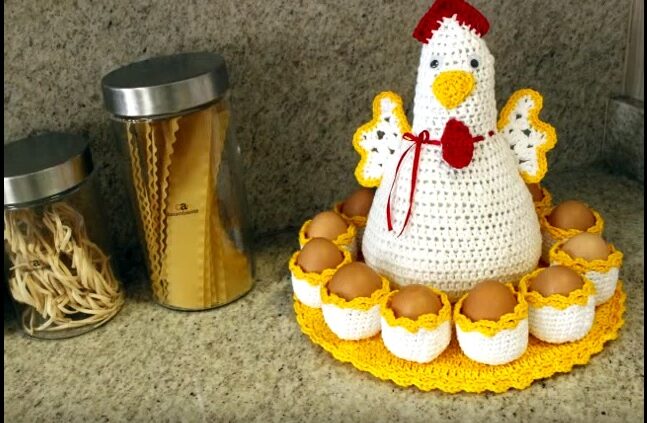 Pattern Crochet chicken egg holder
Very well let's talk about this beautiful pattern today that you have seen in the photo that is a beautiful crochet chicken made as an egg holder. I found this idea very cool and useful, in addition to decorating our dining table or kitchen counter, we have an egg holder to keep there and be practical when picking it up. It was made in this combination of white and yellow, but you can make it the color you prefer, I saw many combinations that were beautiful and very interesting.
When I saw the photo, I was instantly enchanted, I searched for 1 hour for this pattern in English but here we never did it, well at least I didn't find it. I researched a lot and only had a simple chicken pattern but not in this style, so I took the step by step in Portuguese and translated the page, changing the language so I could read in English and it worked very well. So we don't miss making and learning this beautiful crochet chicken pattern.
You can also change something as you like, some different detail or that you want to remove to suit your taste and decorate your kitchen leaving everything with your own way and your special touch. This chicken egg holder has many details so it becomes a pattern of intermediate level, has a finish full of details and very beautiful, I'm sure it will delight everyone in your kitchen. It is an option to give as a gift to a friend or relative and even take as a gift at a bridal shower. Make several models and get inspired by colors and styles.
Also check out these Free Patterns:
Below I leave the link that I found step by step written in Portuguese, just change the language of the page that can make this piece with all the information. I also left the video tutorial to help when making it, you can translate the page step by step and see it together with the video, doing this wonderful and very fun job. I hope you enjoy and enjoy this opportunity that I never saw in our country. See other works that I left here on the site too, there are many beautiful pieces.
Pattern Written – Crochet Chicken Egg Holder