Sleeping comfortably and warmly influences our sleep, sleeping better and having a good night's sleep. It is great to sleep warm and in a comfortable and warm bed, but even better is to make your own blanket to keep warm in the cold. As you all know, there are several models of crochet patterns to make beautiful blankets, of different sizes and styles, from the simplest to the most complex.
The weight and volume of the blanket will also vary a lot depending on the line you use to make the stitches. Winter is coming and nothing better than preparing is not, making blankets and also giving someone a gift. To make a blanket for someone it is important to make it with hypoallergenic, soft threads. In this post we bring you an amazing crochet blanket pattern. 
Celtic Tiles Blanket
It has a very cooland comfortable-looking designer. It is an intermediate level pattern, but with a lot of dedica tion we can do whatever you want. In addition to being a beautiful pattern, the crochet has a relaxing effect for those who are doing it, in addition to bringing an overcoming and satisfaction effect, you can do work to keep warm and also to decorate your home, as this pattern can be made as a sofa blanket or armchairs, also like bathroom rugs, bedroom, pillow covers.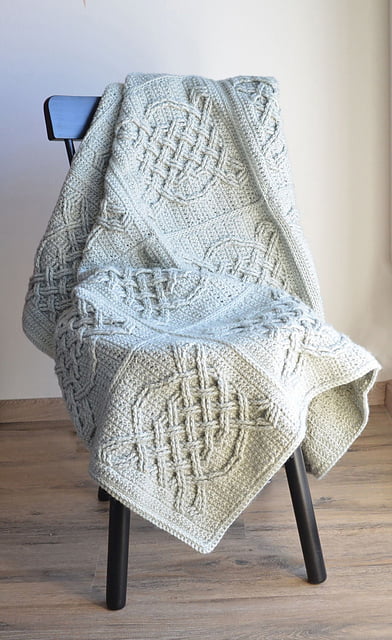 When choosing colors it is important to first know where you will use the pattern if you are not going to make a blanket, thus combining with the decoration of the environment, for example, a rug for the bedroom. Making combinations like this makes the pieces more beautiful. Stronger or colorful colors make the piece more cheerful and great for children's blankets, they love colorful things.
With a needle and thread we can transform it into beautiful and original pieces made by hand. Today's blanket is beautiful, above this is a photo of how the final result looks, it is really charming, it is called by the name of Celtic Tiles. It is formed by several squares that are then joined to form the blanket, used on average 10 squares in a blanket or increasing to make a blanket.
Materials
Hook size – 5.0 mm (H)
Yardage – 3050 – 3100 yards (2789 – 2835 m)
Sizes available – 122cm x 152cm
Abbreviations and Stitch Guide (US terms)
st(s) stitch(es)
ch chain
yo yarn over
lp(s) loop(s)
BL back loop(s)
WS wrong side
RS right side
sk skip st(s)
A beautiful pattern to give an incredible look to your bed or sofa. I'm sure you will love making, it is fun to make these patterns that fit and join each square and give shape to your final piece, in the case of the photo, being a beautiful and cozy blanket for your bed in the cold night. I remember when I started to like crochet, the first pattern was Grandma's famous square, it's easy and practical to make, I'm sure you've already done it or heard about it. I made a lot of simple and quick patterns to finish because it was better to practice and it gave me satisfaction seeing what I did, I was anxious to see the end so I chose quick and simple patterns.
Below I leave the link that I found as the written pattern complete with all the information, step by step and soon after a video tutorial explaining how to do it, being easier to see and understand by looking at someone to do it. Thank you for your visit on our website, save to your favorites and always be welcome. Free new posts every day, clothes, blankets, rugs, crochet appliques and more. Take a look at the site, you'll like it.
Pattern Written –  Celtic Tiles Blanket