Bolero is a classic piece already for some time in current trends and made today in crochet squandered even more charm, beauty and sophistication in one piece.
Well versatile is a piece made to give a charm to certain looks, especially the model we bring today in the tutorial that is floral and sleeveless.
More of the same point it is possible to let your imagination flow is to create other beautiful ones like this, the cool thing about this bolero is the richness of the details and delicacy of the piece.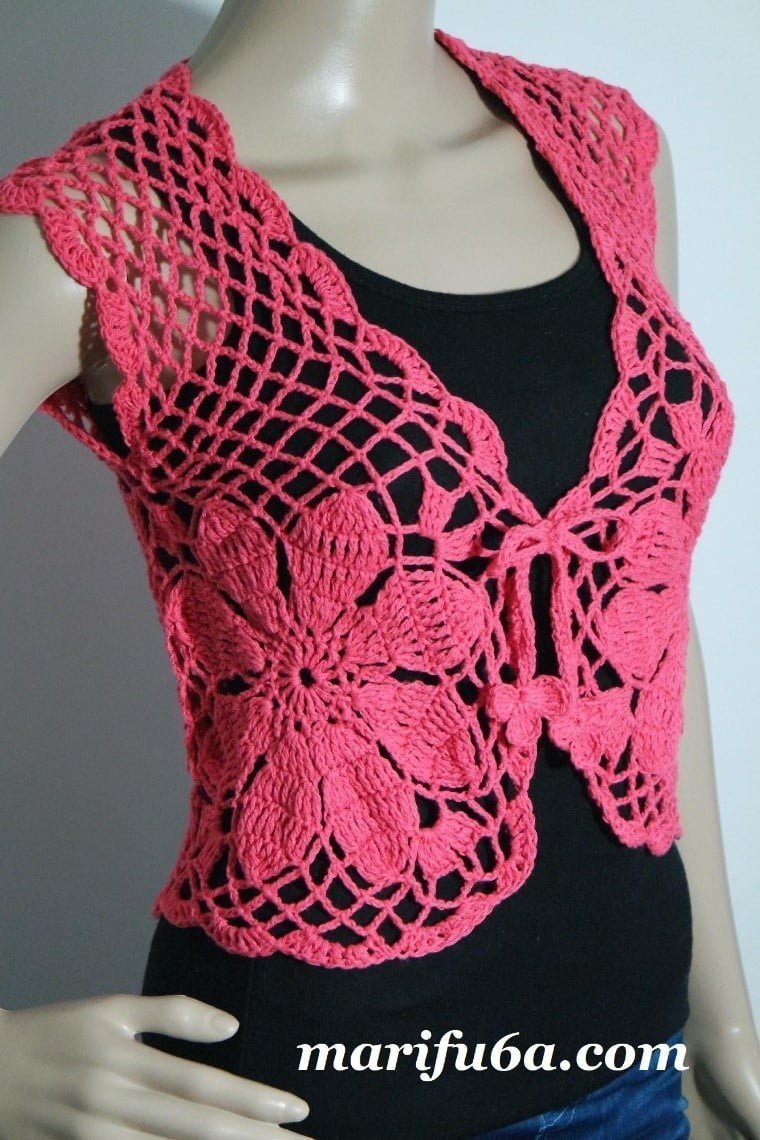 Today we brought a model a little simpler than conventional, richer in detail is very versatile, because you can wear with the clothes you want.
The bolero is a very classic and versatile piece so use the abuse because you will rock.
On-call crocheters be sure to make this model which is actually amazing, I took a 3 days to make this model because I didn't have as much skill with the stitch.
More I believe that being put your hand in the dough and has more skills with needle than I, will succeed with the execution of the piece in 2 days, because there is no mystery.
I found intermediate level because some points for my development I had difficulty, but I manage to do good.
As usual, I advise you to make a couple of models of this piece and disclose your work, I will work with it only on request, for the complexibility of the points.
Galerinha, I guide you who are beginning to persist step by step, go from start  to finish, run the whole tutorial and only jump to the next when you finish the same.
This will motivate you to start other pieces and learn more and more, do the same as I do, scour the sites you have been looking for knowledge, collect as much information, get all the tips you can and be able to collect as much information as possible to aggregate as much knowledge as you can.
Use crochet to your advantage, we know we are experiencing a great crisis on account of COVID-19 this may be your opportunity to change your life through an art that you just take the thread and needle and let your imagination speak for itself.
I'm particularly suspicious when I talk about crochet, because in the old days I was amazed how the needle and thread gave rise to such amazing pieces.
At the time I wanted to have those bathroom games from Minnie, i kept thinking how much laborious it would be to make such bathroom games is funny, today I take 01 month to manufacture a complete bathroom game.
Simply in love, crochet really changed my life and I bring this to the pieces I manufacture, with all the love. Like not being in love with something that sustains me, brings me peace, love and a lot of desire to do everything that moves my life.
See crochet as an opportunity, this because it is an art that not everyone knows how to do is depending on the piece the work pays off is very much the amount charged.
In reality you should make a fair pricing of your work, since you must calculate the material spent x your labor and thus set your price.
I tell you all the investment spent on time and sleepless nights will be worth it!
Now let's stop chatting and we move on to another amazing tutorial where the step by step you can check clicking here. The credits of the tutorial and even the image is intended for the official website.
Credits ➾ Photos and pattern by Marifu6a