My crochet companions, how are you all, I'm very happy to be here sharing another pattern on our site to help several people. I love every thanks and praise I have received and I want more always. I was researching in pinterest new things, new patterns and different types of crochet work, and then came the idea of ​​looking for patterns of clothing accessories, and then looking for various legal and accessible course to share with you, I chose one and I brought you here today for all of you to do with me. I'm in love with new things so let's go with me.
Today the post will be a beautiful light crochet shawl, which as I said, I found searching on the internet and found it very beautiful and detailed. The ease with which the internet provides us is very cool right, and then I can share with you here, fantastic. The crochet is always renewing itself and we must be also in constant learning and practicing whenever possible not to lose the skill. There are several models of crochet shawls that enchant almost every woman, not only the old but the new 25 years as well.
This xale is too beautiful and idela to be worn during the night, it will certainly combine with several clothes because even if it is done in black even as shown in the picture below, it will combine with all its pieces. So start your crochet by choosing the yarn you want to use, the thicker yarns will heat up more and it is easier to handle if you are starting to crochet and will be faster to finish.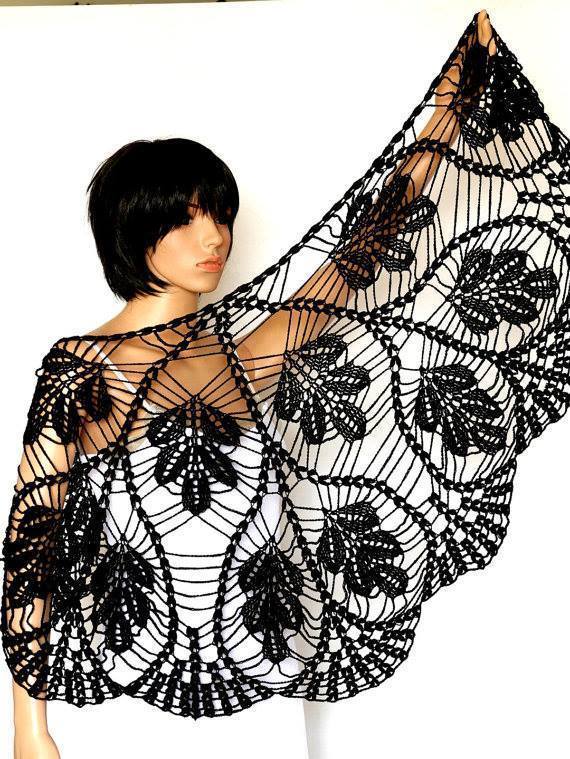 But if you want a thinner yarn to get a lighter shawl you can also opt for the thinner and softer ones. We can also choose the blended yarns, we have at our disposal in the craft shops the most elaborate yarns, and thus giving us this chance to make work ever more beautiful and with style and elegance.
This wonderful crochet shawl today starts by making a triangle and growing each crochet lines. The result will be smooth and spatial scent of call as you wish and you have enough patience to do, but it's nothing complicated-it's fast. The designet of this shawl is of leaves and this leaves a very beautiful appearance.
To use crochet scarf is very simple and is a joker piece. You can combine them with simple blouses, blouses with a high collar, and to give more elegance you can invest in more elaborate accessory like long necklaces or chokers, with colors and dots. The rule of fashion is that if the scarf has too much detail, the piece as a necklace, it should be more discreet. And if you put on detailed sweaters the scarf should be simpler. Also suitable for scarves made with stripes or colored that should only be used to give life to smooth and ordinary sweaters.
If you liked this pattern, you can see below the graphic of this crochet shawl that I left for you, I hope you like it and make beautiful shawls. Do not forget to enjoy our Xell Crafts facebook page and always know about our news.