Hello crochet friends, once again I'm here to bring you another beautiful pattern. How is your day going? this beautiful Tuesday. Here we are working and I stopped to search for beautiful things for everyone, I always like to leave things here for everyone and you have enjoyed it and that makes me happy. Have you found anything you like around here? I get a message from readers that tell me that they love the way I leave the pattern here and that they already found many beautiful things on our website.
Patterns that I find cool and useful I always save and leave here for all my dear and faithful readers, if you are visiting us for the first time I say: welcome, always come back and I am sure you will love our patterns that we have available here. Enjoy each one and make beautiful pieces with your wonderful hands and improve your motor coordination.
Today's pattern is different, I never brought it here to the site and that's why I found it interesting to bring it to you. For those who like different pieces and nothing casual this is the opportunity. Those who like technology, cell phones and social networks will know just by looking at the emoticons of social networks that we see and use so much. If you liked it then read on and get your material to make beautiful pieces.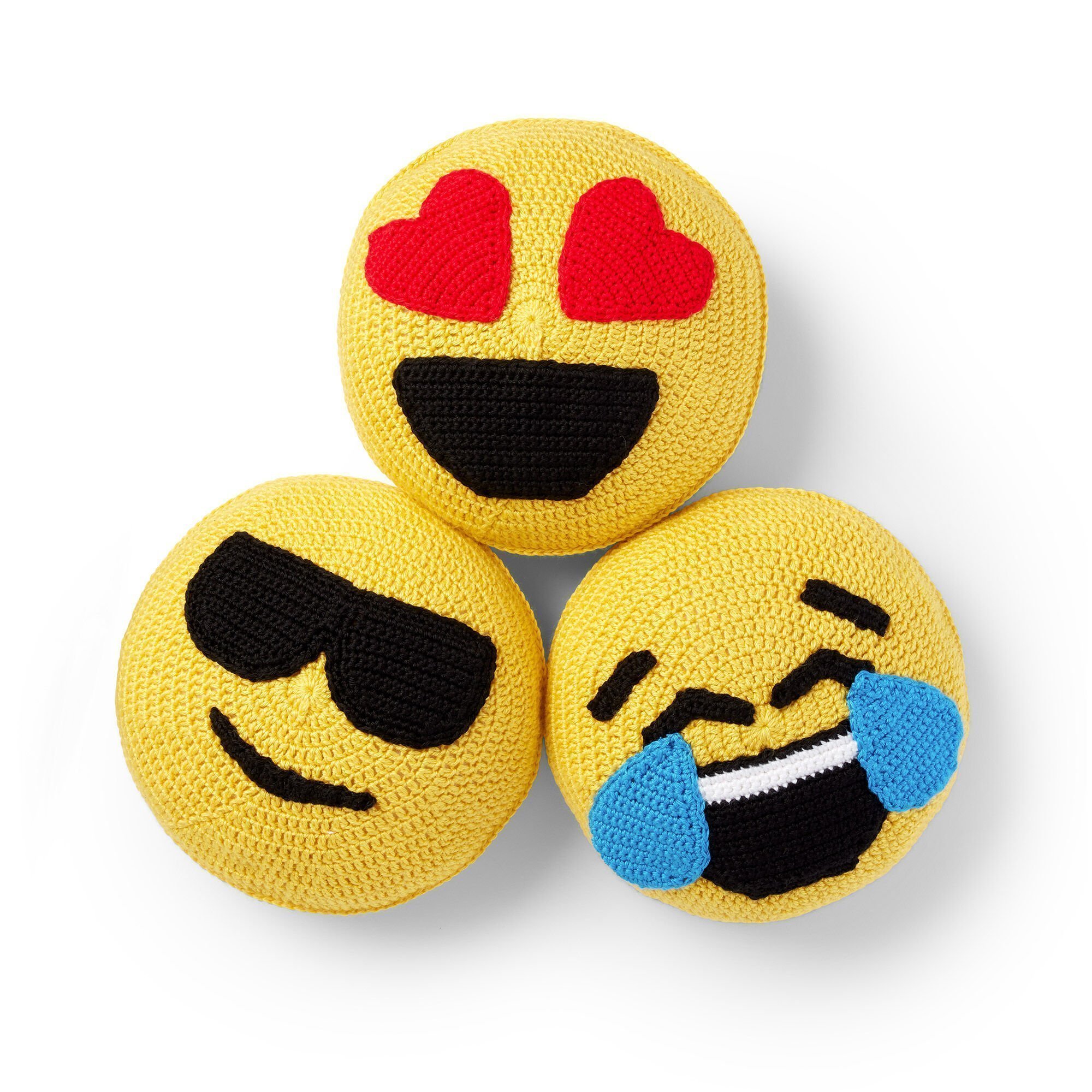 About Crochet Pattern Emoji Pillows
Today's pattern that I bring here, as you can see in the image above, is a crochet pillow made with the emoticon design of social networks, they are very well known. I've seen several pieces with these faces and found it interesting for cushion. it is a lot of fun and if you have children at home, i am sure they will love this novelty and still made by you, a beautiful gift made by your hands.
This pillow is very fun to make, it passes the time quickly when it is producing, it is not difficult it is an easy pattern to make. All those who are starting to crochet can make this pillow, so enjoy and make this piece that you will love to crochet. For those who sell it is very interesting to do to sell because people like it and they can also choose to give it to teenagers or children, it is good to have options in this area of ​​sale. What can change is the face of the pillow like the one in the photo, one with a smile, another with glasses and another with hearts of passionate pillow, only the color that will always be yellow to make according to the emoji.
Measurement Approx 14″ [35.5 cm] diameter
Gauge -15 dc and 8 rows = 4″ [10 cm]
Size U.S. G/6 (4 mm)
Also check out these Free Patterns
➥ Spring Pineapple Floral Lace Doily
Searching on the internet, I found the pattern in pdf that you can print and use to crochet wherever you go, the pdf has all the information you will need to read the step by step like the abbreviations what each one means, it also has all the materials used in the pattern, needle size and then the entire step by step written in detail on how to make this emoji pillow. Enjoy every detail and make beautiful pillows, good work and even the next pattern here on our website. If you liked it, share with friends our website and our pattern, here it is all free to help everyone, the crochet world cannot stop.
Pattern PDF Free – Crochet Pattern Emoji Pillows