Hello crochet friends, how was your day. Around here a lot of work since morning and now I stopped to write to all of you, that I love what I do so much. When I come here to write for the site I stay in my moment, my time here to share with you beautiful things about crochet and listening to my music on the radio. This pandemic I have already watched several films, finished crochet projects and saved several for next month.
The month is ending, so let's get organized and program the projects and patterns you want to do for next month. Challenge yourself, practice as much as possible, make small and large pieces. Sometimes I start two projects together, one that ends up faster so it becomes more fun to make the pieces and when it ends it gives me a satisfaction and a desire to do more because I have already finished and see the result.
The pattern I brought here in this post, is a pattern that I'm going to make next month, it's on my list and it's a piece that doesn't take so long to finish, this is great. I am organizing myself with my personal projects for the month of April and I am also organizing myself with the patterns and tutorials that I will bring here to the site, so stay tuned. There are a lot of good and beautiful things that I am preparing, pieces of clothing, quilts, ornaments and much more.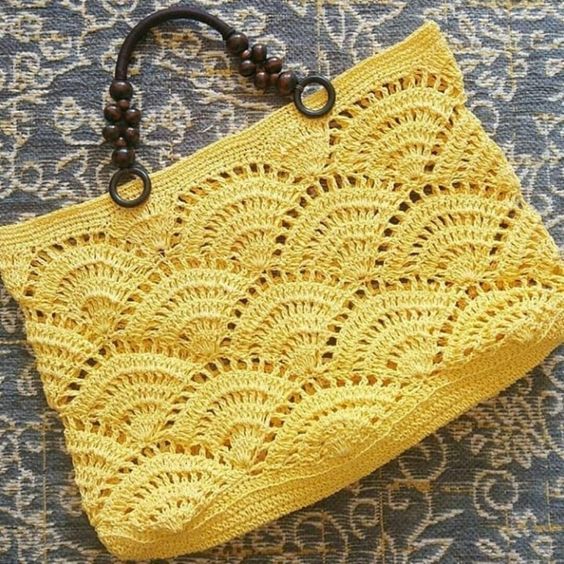 Learn How to Make this Crochet Bag
Today's pattern, as you can see, is about a beautiful bag made of crochet that has a designer of the points of a fan, giving an incredible effect to the piece. So if until today you haven't made a crochet bag, today is the opportunity to learn and rock. Learning new things is always good, very much and I am very happy to bring different pieces here. If you like it I will bring more about purses, wallets and etc.
This job is a beautiful option to give as a gift to someone, very difficult for a woman not to like a bag, regardless of age, all ages are enchanted with bags. Even more as a gift made by yourself, it becomes more special and made with affection. Share it with your friends and relatives to see this beautiful piece too and learn, it is very easy and fun to make, time passes fast while you do it.
This bag can be made as you wish, the handles can also be crocheted from the simple stitch as you prefer, rope, leather ribbon, whatever you think will be better. You can also put crochet appliqués of drawings that you prefer, put satin ribbons at the beginning of it, an incredible ribbon to give it a charm or even put a handkerchief tied on a purse strap. I saw many models like that, with scarves tied and it was very elegant and beautiful. Let your imagination flow and make beautiful original works, to your liking. Choose plain or colored threads, it is also beautiful with those mandala threads, a tip.
Also check out these Free Patterns:
Pattern Graphics
For this bag we find a graph that shows the details of the points, save and enjoy. We have other pattens available on the site. See also, you will love the things I have left, shared here with all our readers with affection. Make beautiful crochet bags and see you soon, always come back here, good job.