Want to make your table even more elegant and beautiful? Learn this amazing crochet pattern today. Decorative, elegant and very modern napkins in crochet is a trend these days.
The pieces in crochet independent of the pattern is model leave any amazing environment, today's tutorial is something we see a lot in the day to day, because it is one of the most trending pieces of the time.
The tutorial in crochet is a very simple walkthrough that can be deployed to other models, ie the same model can be make an amazing rug, just select a thicker quality line and go growing the piece.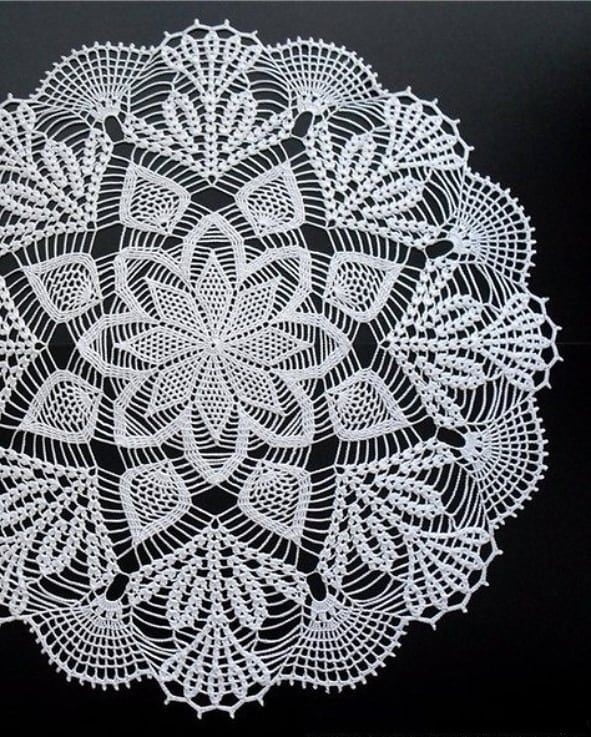 That is, from the same point you can give wings to the imagination and create other amazing pieces. I want to give an important tip to you that is starting now, crochet is the art of possibility.
So if you entered the market is starting now, invest your time in learning as much as possible, this will help you and a lot to produce amazing pieces.
At first it really is not easy, you will want to give up by not being able to hit certain points, more with enough persistence will hit and after ready will notice how rewarding it is to crochet.
I would leave another tip, I'm a mom and I embraced crochet because I wanted an opportunity in the job market, wasn't getting jobs, parents in crisis I found myself forsawith a child to raise.
I do not get tired of telling this story, because I'm sure there are other women reading my tutorials and experiences here on the site that go through the same, I do not give up, Embraced the crochet with everything.
I spent nights and nights awake trying to develop the tutorials in search of my development, is do not think That I knew how to do something, at the time the only thing I did well was chains and beaks of dish cloth.
I bought 10 cloths, produced the nozzles and always left at the end of the shipment to sell door to door, I remember how to be today how desperate was the week of my rent.
Fear took care of me not getting the money, but I knew that being i could actually learn how to crochet and reproduce amazing pieces I was going to get up.
While everyone slept I worked tirelessly, I knew that this storm of work is a lot at the same time it was temporary.
So I didn't give up, I went towards my dream, I looked at my son is I knew that from there we would take our livelihood.
Today I walk in quieter waters, made crochet the dream of my life. I work from home in the calm, I no longer need to expose myself to the sun and rain because the orders reach me.
Check out more amazing tutorials below:
➠ Crochet Baby Blanket Vintage and Bobble Stitch
With 6 years of experience and a lot of experience in the area I gradually made my name, today I manufacture certain pieces with closed eyes, I have a huge love for crochet.
It's a very reason to those who want to start taking the first step, which i'm sure as well as I will get. So let's go today for another amazing tutorial where all credits are destined to the official website.
Access the Pattern ➠ Tutorial napkin crochet