Welcome to this post today that I left reserved for you, all of you who love baby clothes like me and especially crochet baby dress. It is really charming because it makes our darlings more cute and delicate looking like dolls. I never resist the pattern of baby dresses, I always look for and save several to try to make and also to share with you. Every month there is at least one pattern here for a baby dress, watch for you to see.
So if you are like me who love making this kind of piece, today you will love what I have separated, a beautiful dress with a very different designer and that leaves children very elegant and delicate. This post will make you even more in love. A piece all worked and detailed leaves the girls more beautiful than they already are, a grace without a doubt.
On the internet there are several models to be enchanted that can give inspirations to create other models too, innovate and create beautiful stylish and unique pieces to make your princess more beautiful. So if you were looking for a dress pattern, this is the opportunity, you can be sure that you will love making it and will also be delighted with the result.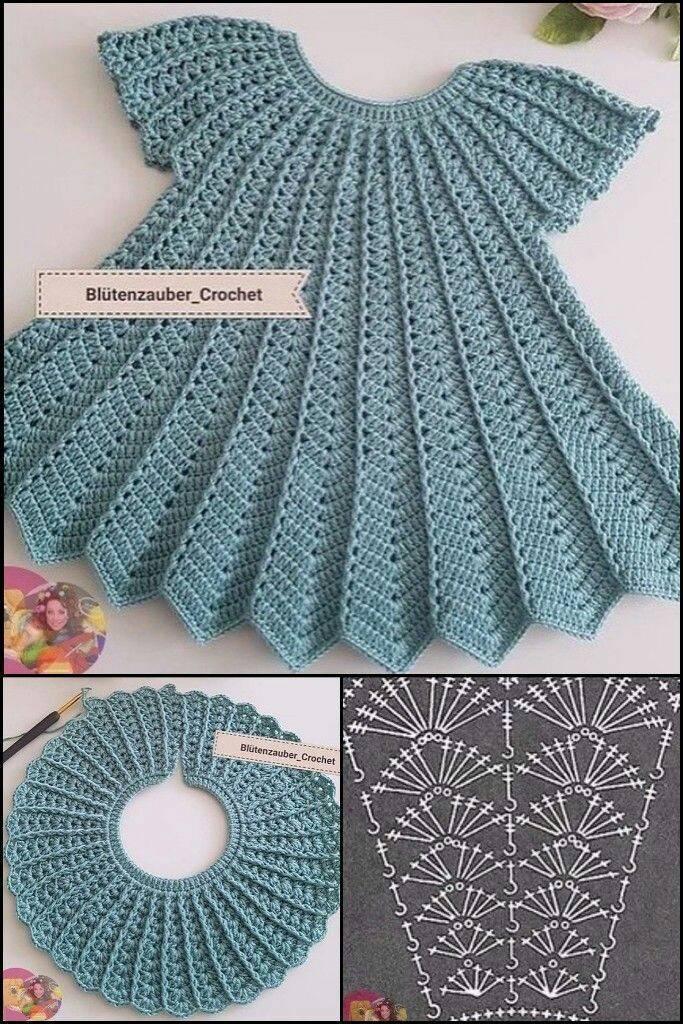 Pattern Round Crochet Baby Dress
Today's dress is the dress shown in the photo above that I left to see how it looks in the final result, beautiful isn't it? I found these strips designer very beautiful and different and they were shot with layers because of the style of the stitches. In the photo a color was used in light blue, but you can do it in the color you prefer and think it will look beautiful, and for the sellers of the crochet it is cool to make a black or white and another colored or another in pink, to have one in the color classic and another in the most delicate color, being good to leave more options when the customer chooses.
The length depends on the number of rows of stitches you make as all other patterns of clothes or bedspreads are made in this way to choose the size, with less or more rows. There are people who prefer to make newborns shorter dresses with lace panties showing, to show the details when they wear those panties all decorated with satin or even crochet panties to match.
The result of the look is very beautiful and beautiful for the heat. There are the looks to wear in the cold too, you can put on a sock and a jacket, or just the jacket and a boot, it looks beautiful and charming. With dresses we can make countless combinations. They can also do to make the dress more original and unique by placing crochet appliqués of heart, flower or by placing satin ribbons on the waist of the dress or on the hem. Anyway, every detail given by you in your own way is good to be more original and you can be sure it will look beautiful.
Also check out these Free Patterns
➥ Spring Pineapple Floral Lace Doily
Below I leave the video tutorial of this beautiful dress, enjoy all the information that has in the video and every minute that she does step by step with you. Always good to do together so as not to make mistakes, I hope you like it and until the next pattern, tomorrow I will be here again to bring more beautiful things. Good job to all
Video Tutorial