Hello and welcome to our website, you will find lots of news here so make the most of it and we have many crochet patterns to bring to you. If you love crochet just like us then you will love our website, here all the patterns we share with you are free. We have many patterns of blankets, clothes, crochet squares that you can use in many things anyway, lots of cool and useful things to learn. I love crafts and mostly crochet, of course.
Crochet is very moldable, so we can take a pattern and change something to make it our own way and make it original, a more exclusive piece, a work that I love and can't resist looking for more news, this is the crochet! Crochet draws my attention a lot because it lasts for many years, being able to pass a piece from one person to the other, but of course if it is very well cared for. You can use a crochet piece to do many things depending on your style.
For example in pieces of clothing we can use crochet to make, dresses, blouses, shawls, socks, skirts in short, everything you want and make a beautiful look with pieces created by yourself. You can use crochet to make decorations for your home or present someone with decorative pieces or clothes, dresses that every woman likes. Below we will learn another beautiful and delicate crochet pattern.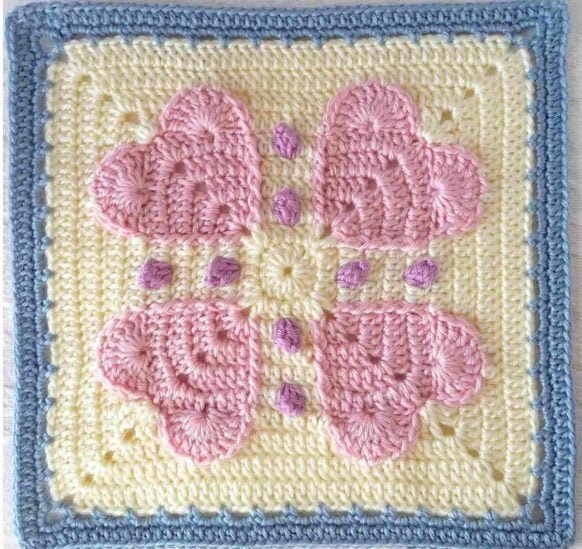 About the Pattern 
As you can see in the photo above that I left, today's pattern is very delicate being a crochet square with a heart design that makes the pattern very delicate and romantic. It can be used in many things because patterns in this style of square are good for making pieces the size you prefer, just increase or decrease the number of crochet squares you produce. There are many ideas for crochet square pattern and researching brought this to our website and share it with everyone.
With this square you can make a beautiful baby blanket that is very delicate with these hearts, you can also make a cushion cover to match, you can make a blanket for the sofa or armchair, rugs, tablecloths, use to make clothes too whichever you prefer. There are several ways to make and let your creativity flow, make beautiful patterns and delight everyone.
If you sell your works, I advise you to do at least 2 works with this pattern of different size, as it looks beautiful for a baby blanket, remembering to use quality and soft threads for this type of work. The pattern as it is in the photo, the suggested color is in these beautiful colors using white, light pink and light blue that makes the piece more delicate, but do it as you prefer it depends a lot on which piece you are going to make, thus choosing the colors of your taste or decoration. Leave it the way you prefer and want a quilt for your cozy bed or sofa.
Are you enjoying it? Also check out these Free Patterns:
Below I leave the link for the Never Ending Love Square pattern that I found the complete written step by step, it has all the necessary information to make this beautiful and romantic crochet square to enchant everyone. Enjoy the step by step and have more knowledge and experience practicing, good work to all and always come back on our website, we have news every day here.
Free Available Pattern: Never Ending Love Square