Good afternoon friends, as this is your Friday, I have many ideas and patterns that I set aside to bring here on our website. Be very welcome once again here, we will learn more beautiful things today, I separated two crochet patterns to end our week and I will research many beautiful works for next week. Only free patterns that we leave here on the site as they are used to, the people who are always here following all the patterns around here.
We arrived at the end of May, another month ending and I hope it is very good for you, very productive and take advantage of the last week to do a beautiful job to end the month with a flourish. There is still a lot to learn, there are many patterns to share with everyone here on our Crafts Loved website, which is prepared for you to find the works you are looking for or see on the internet, and here you can find the patterns completely free of charge.
The pattern I leave you with today is a beautiful corchet blanket. Learning how to make a blanket never hurts, there are many beautiful pattens to learn and make. Crochet sellers should always be on the lookout for news, always researching to make pieces that people are looking for, that they are enjoying very much and do to increase their sales and income.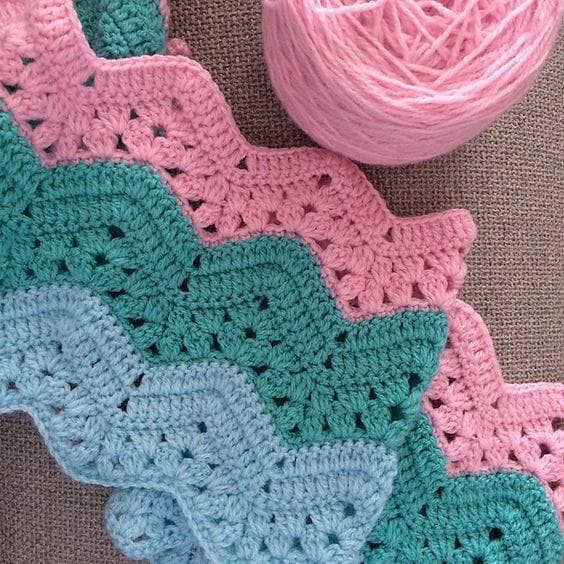 Crochet Pattern 6-Day Kid Blanket
The pattern I brought you is a crochet blanket called 6-Day Kid Blanket, who has a beautiful and very delicate designer. It is full of details, points and curves that at the end give an incredible result to see. This blanket is not difficult to make, it is of an intermediate level of crochet difficulty, but nothing impossible that I cannot do calmly and with a lot of attention. Blankets are good for decorating the stitches by doing several repetitions, thus decorating the sequences and getting easier to make as the piece will do.
Practice always makes perfect and as you make the stitches, you will get your fingers used to making the stitches and sequences thus activating the memory and improving your coordinations. And when you are halfway through the blanket it will be easier to produce as you will have gotten used to the sequence.
In addition to making blankets with this pattern, you can also use it to make sheets of dishcloths or table cloths, I'm sure it will look beautiful. Use wherever you want and think it will match, the crochet is very moldable and innovative. In the photo there is a model of three color combinations, but it is just a suggestion to give as an idea, make it look better according to the piece you make and also according to the decoration of your environment and delight everyone who visits your home.
Are you enjoying it? Also check out these Free Patterns:
Do you like the pattern? then separate your materials and start now. Below in the name of the pattern I left the link that has the materials used to make and also has the complete written step by step of the pattern with all the details and photos to see how it looks. Following the step by step and the photos of the sequences to be compared, there is no mistake. Do it with attention and dedication that I am sure you will achieve, good work and that you will be able to create many beautiful pieces.
Free Available Pattern – 6-Day Kid Blanket