The crochet is always innovated, with each passing year new patterns appear and this constancy of crochet news increases with each year. Each year many new, beautiful things appear, much more beautiful too, more modern, mixtures of points that combine, in short. That is why it is important to always be practicing, learning, seeking to improve as well as in our private and professional life.
You need a discipline and search for knowledge always, to improve your skills, improve when making the pattern, making the points more perfect and uniform. In addition, our crochet also gives many health benefits to each piece made, a new challenge for each project. Today's pattern is about a beautiful crochet blanket that has a very beautiful and elegant designer. Beautiful to see and be enchanted.
The blanket has the name of Little Lily Baby, it is an incredible cover that has a fantastic, stunning result. It was all colored giving an energy, joy to see the work done, creating a great colorful blanket for children. Colorful works are great for not having to worry about color sequences and color order, it's free and fun to do. Style of a more colorful rainbow with a white border, thus making it more prominent.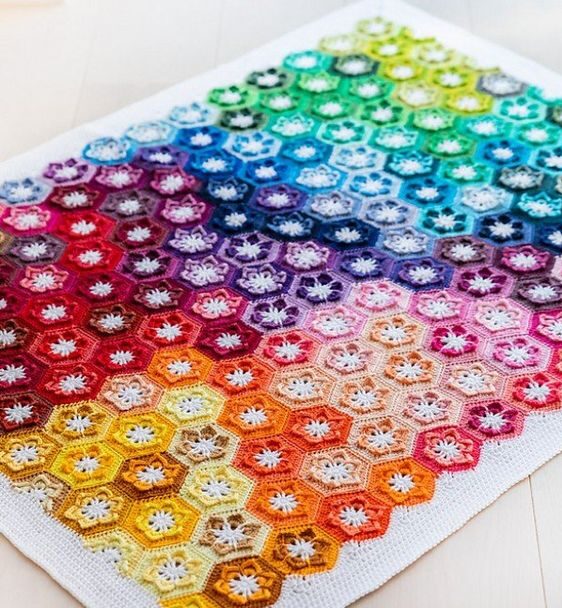 Pattern Little Lily Baby Blanket
This pattern is easy to make, fun for the colors you can have fun making and very creative, that style of work that the hour passes quickly when you start making it so smooth that it is making this piece with these color combinations. So much looking on the internet for something more colorful and fun, I found this pattern and liked it a lot, I hope you like it too. In the photo above, this is the final result of it to see how it looks, incredible isn't it, I loved it.
If you started to crochet a short time ago, this is at the beginner level, don't worry, with all the information you will be able to make this wonderful blanket. The time to finish depends a lot on your free time, how much time you can continue doing your work during the day or night, if you work outside it will reduce the time you have to crochet, then the time to finish the job varies a lot.
The pattern is made entirely with the floral designer and the colors have an ombre-style gradient that mixes the colors in the dark and light tones. Incredibly beautiful, you will love it. This blanket measures approximately 91 x 115 cm.
Abbreviations
BPhdc: Back Post half double crochet: yarn over, yarn over, pull up loop, pull through all loops
ch: chain
ch-sp: chain-space
dc: double crochet
RS: right side
sc: single crochet
sp(s): space(s)
ss: slip stitch
st(s): stitch(es)
WS: wrong side
Also check out these Free Patterns:
If you liked this pattern just like me, separate your materials and start, it's fun and beautiful to look at the result later. Below I leave the graphics to make this beautiful blanket and also the link with the written step by step complete with all the necessary information. I want to thank our readers and for the new visits we have here on the site, for the comments they send to us, thanks for the affection. Here is everything to help and we love it when you interact as this is very important for us. Every day we have news here. We wish all our readers an excellent week, full of incredible work and good things.
Access the Free Pattern – Little Lily Baby Blanket