Welcome to the Crafts Loved website, where we bring crochet news from graphics, tips, step by step and tutorial videos. Here everything is done with love and we always leave free patterns, we do not charge anything. Aim to make everyone's job easier when looking for a pattern to make in particular. We have many things available, there are more than 100 different patterns, of various styles to make.
As you know, crochet is used in many things from clothes to decorations so there are many things we can do with it. Leaving our house or wardrobe with pieces made by us and in our own way. Crochet pieces combine with our decoration of the bedroom, living room or kitchen, using creativity we can do many things and with that touch of charm and warmth. Not to mention it can be a beautiful gift to give.
Today we are going to talk about a pattern that is very easy and simple to make, it is one of the beginner's points to learn and make beautiful pieces with it, you will like it, easy and fast. As this is a point, you can use it in various jobs such as blankets, dish towels or bath towels, tablecloths, pillow covers, or glasses cases, shawls, you can use and innovate everything with it.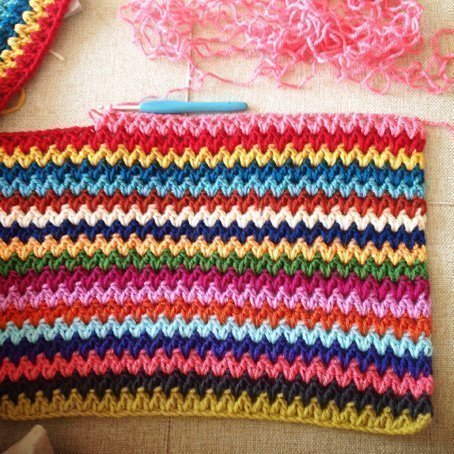 About Pattern V Stitch
In the photo above, the piece was all made of colored yarns in various shades, each row with one color becoming beautiful but you can also make combinations of 2 or 3 colors that look beautiful and elegant. If you already have the skill with your hands at easier points like this, you will be able to quickly do the jobs you choose with that point. As you can see the result in the photo, today's point is called a V point because of its designer even though it looks like the letter V, very characteristic.
It goes with everything, easy and like I said he is great for beginners in crochet. It is also widely practiced, many people have already done it and loved the result. It is a great incentive to make more patterns and always try something new to learn more.The color of the photo is a suggestion but do as you prefer or combine with your decor, where you will make it because each work a color is more cool. The good thing about making the same ] piece in the photo, each row a color is that you can use threads that you have in your house, the threads that are left over from other patterns to use.
Make beautiful pieces of different styles and colors, have fun and decorate many things making everything more beautiful. Use your creativity and make beautiful pieces with incredible combinations of lighter, softer tones and darker and warmer tones. My aunt has a project to make pillow covers for the sofa in her backyard and then make a big carpet in brown and yellow to match the fall, it will be really cool.
Also check out these Free Patterns:
If you liked or were interested in this point, below is the video I found on the internet researching about these easy patterns. The video tutorial contains the entire step by step to do it correctly without making a mistake. The camera is well positioned, next to see, making the stitches just right, making it easier to follow and understand the pattern. I hope you like this pattern and come back more often here on our website that we have news every day.