Hello my dear readers, always good to see you here, I love it when I get your visit because it shows me that everything here on the site is worth it, the time I take to research cool and free patterns, time to write for you and see the return is incredible. Many people still don't like to share free content, because they prefer to sell more, not everyone can afford it, right? then we will help each other.
Crochet is everywhere, it can be used to make a bar on a dish towel like a rug or blanket. The crochet is very dear to all who see its result, I have seen many people who do not practice crochet, like crochet pieces by their designer and for their result so beautiful and delicate, beautiful pieces made by hand which does not seem to be so perfect that they are.
Today's pattern is a very special pattern that when browsing the internet and group, I saw and liked it a lot. I don't know if you have this habit of always searching for different patterns and beautiful patterns to make. But I have this custom and every day I spend 1 hour looking for beautiful things to share with everyone and of course, learn more and do to improve my skills with my hands. If you want to learn something incredible and new, this is your place.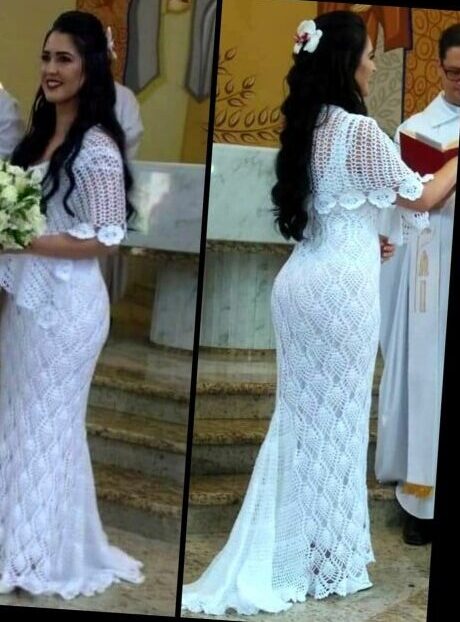 Crochet Pattern Pineapple Gown Dress
Today's pattern is for a long crochet dress as you can see in the photo above, it can be used even on special occasions like a wedding on the beach, it suits you a lot. A beautiful crochet pineapple dress pattern. This dress matches a lot as I said before, it matches with important occasions also like an outdoor wedding, in front of the sea anyway. It can be used in various places, wedding, birthdays, engagement, going out during the day, wherever you want to go and look beautiful and elegant.
It is blank in the photo because it is from a wedding, but you can make it the color you prefer the dress. Choose your favorite color and make it, or make it a color that you will use more often that goes with everything, it is usually white or black that goes with everything. But if you have something special to use a different color, do it, each has its preference.
For garments we must choose quality yarns, soft so as not to cause discomfort or scratch the skin, hurt, because we want to be beautiful and comfortable. For everyone who makes pieces to sell, this is a great option to make and sell, its value is higher and the cost is low so take advantage. The good thing about crochet is that we spend very little to make the pieces because the threads are cheap and yield, it always pays off for the cheap cost to make the pieces that are expensive ready if you are going to buy from someone.
If you liked this pattern just like me, then you can not be left out, save this pattern as favorites or if you are free looking for a project to start making then do not waste time and start this one. This dress is amazing and will delight everyone, below I leave the link with the step by step written all complete, with the materials used and all the instructions to make this dress. Enjoy and make beautiful dresses to charm and become more elegant. Thank you for being here and until our next pattern for tomorrow.
Step by Step – Crochet Pineapple Gown Dress