Welcome friends and readers, how are your crochet projects .. Today I brought a beautiful crochet pattern for you to do this week! so I'm going to share here the crochet pattern for those who love to crochet. It's a beautiful crochet blanket with feathers
This pattern is called Crochet Feather Blanket is undoubtedly one of the options for fans of crochet blankets. This airy blanket looks particularly good on any solid piece, where the color of the surface can appear through the rich tone of the blanket.
The easy yarn used in the tutorial has striking colors, it's just a suggestion, but you can use any color you want that will surely look beautiful. This crochet pattern is an ideal gift for anyone who is passionate about crochet blankets.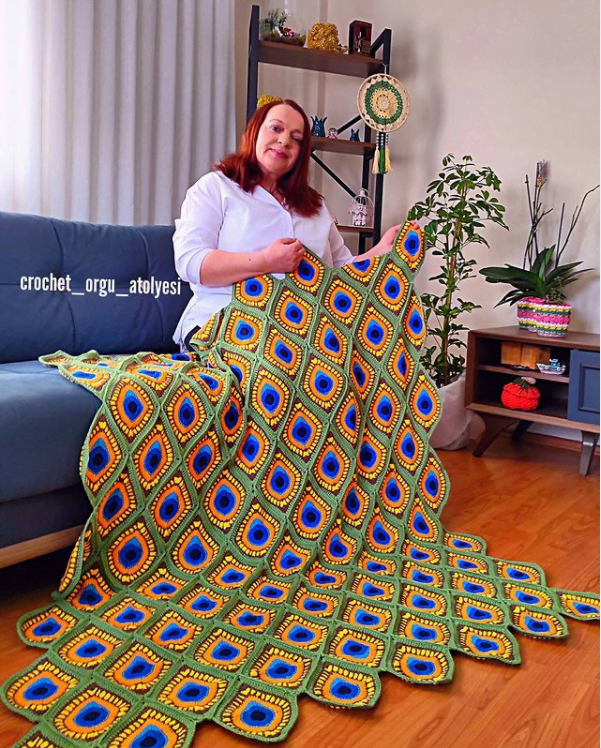 What you need to make this beautiful crochet blanket with feathers is included in the tutorial that we will make available to you! It's time to crochet this magnificent pattern and don't forget to share your progress!
It is a great idea to decorate your bedroom or living room with this crochet pattern with feathers, this crochet pattern has details that need attention but it is not impossible to do.
You can do it with two colors or use several colors, making your design colorful and more cheerful. Your imagination counts a lot when it comes to choosing the colors and the piece you are going to make, be it a crochet blanket or any other crochet pattern, let your imagination flow.
Are you enjoying it? Also check out these Free Patterns:
➥ Butterfly Crochet 3D – Free Pattern
➥ Crochet blanket afghan with roses
This pattern reminds me of peacock feathers, wonderful blue and green colors. Well, let's get to work then. Below I leave some pictures and the link for you of the crochet pattern, I hope you like this beautiful crochet blanket! I wish you success with your new project. kisses and hugs friends … god bless.
Credits By ☞ @crochet_orgu_atolyesi